About electromobility
Electromobility is a concept that we hear more and more often. What exactly is electromobility?
A fashionable trend that will pass away? Or maybe something that will permanently and radically change our lives? In Poland and Slovakia, we know each other for a long time with electromobility. Older people probably remember the cult Melexes, which are now experiencing their second youth. Tesla, an American electric car, has many fans because of its performance and technology. But there are still few electric cars, although their number is growing rapidly.
About the project
Poland at the beginning of 2017 is a white spot on the electromobile map of Europe.
There are only about 150 charging stations in the country, only free. Traveling by electric car between Polish cities, for example Warsaw and Gdansk, means 2 days of road trip, planning, the need to have contacts to people who can help recharge the car. In Slovakia, the existing network of charging points needs to be expanded so as not to become a bottleneck for the development of electromobility in the region. However, there are EU projects that can help change this.
Learn more
Network map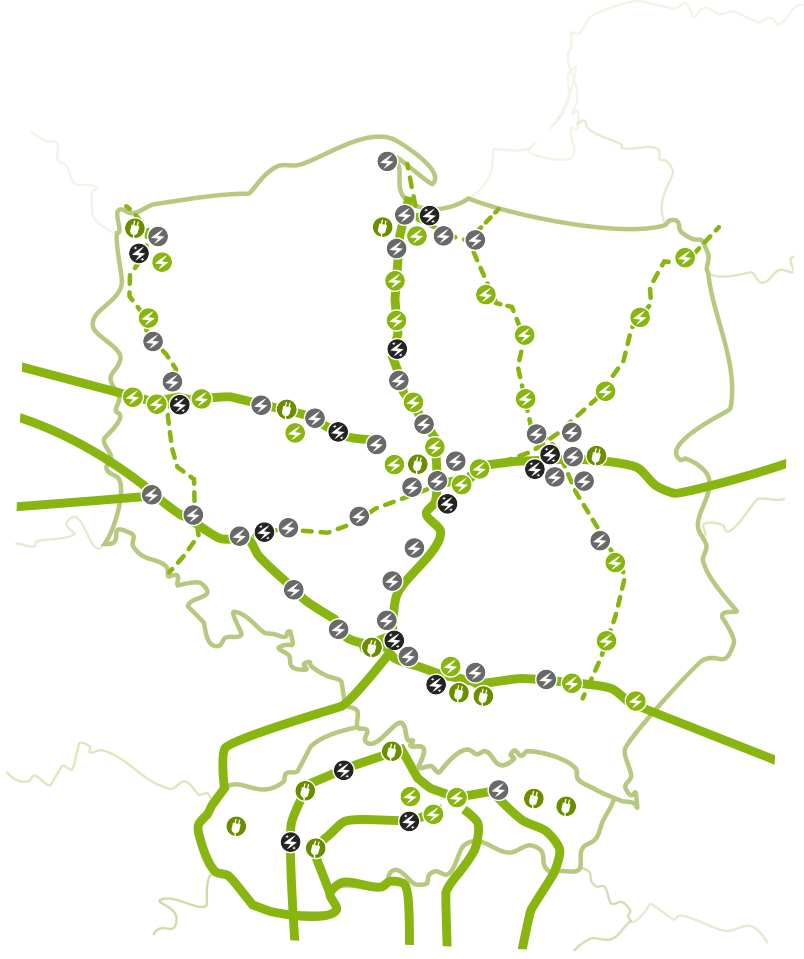 stations fast
charging
(opening to 2018r)
stations fast
charging
(opening to 2020r)

As a result of the projects, a large, fast and ultra-fast charging network will be created, the largest in Poland and Slovakia. Points will be conveniently located along the main transport corridors, as well as in cities with high demand for charging. The distance between the stations will be between 85 and 100 km. In each of the publicly available stations, open 24/7, there will be facilities to manage the time for charging.
Chargers
Charging an electric car is not always just about connecting it to a home outlet. There are various charging options that allow you to charge the car batteries at different times for different rates. The voltage in the home socket is 230 V, which gives a maximum power of 3-7 kW depending on the electric car. Charging time is several, up to several dozen hours. If we want to do it faster, we have to use fast charging.

Range:
The average city electric car travels about 120 km on a single charge. It's quiet
it's enough to beat the daily limit - on average, we're all about 45 km a day,
regardless of the type of car we drive. However, it can be embarrassing on the road - doing what
A 100 km break of a few hours is out of the question.

Speed:
The speed of charging an electric vehicle depends on many factors: on the level of charge
battery (up to 80% charging will be done quickly, then much free),
technical parameters of the vehicle, type and load of the loader and external conditions. Wear
energy in the battery also depends on many elements: speed, ambient temperature,
using heating or air conditioning.

Standards:
Currently, there are many types of chargers on the market that allow you to charge with different ones
speed. In the case of quick loading, car manufacturers use several standards,
Therefore, if we want to be sure that we will charge our vehicle at a given station, it is good to make sure
that it provides support for our standard.
How to use the network?
Using the network is very simple.
In the GreenWay network there are primarily quick chargers and you can charge them to virtually all electric cars available for sale, thanks to the fact that greenWay chargers are equipped with all publicly available charging standards. The only thing you need is an access card. To get it you need to register with the operator. Learn more.
Learn more
Contact Poland
GreenWay Polska Sp. z o.o.
Aleja Zwycięstwa 96/98
Gdynia 81-451
e-mail: [email protected]
tel.: +48 58 731 96 36
NIP: 5833195289
KRS: 0000602098
REGON: 363635970
Contact Slovakia
GreenWay Infrastructure s.r.o.
Šustekova 49
851 04 Bratislava
e-mail: [email protected]
tel.: +421 2 330 56 236
IČO: 47 728 086
DIČ: 2024088363
IČ DPH: SK2024088363